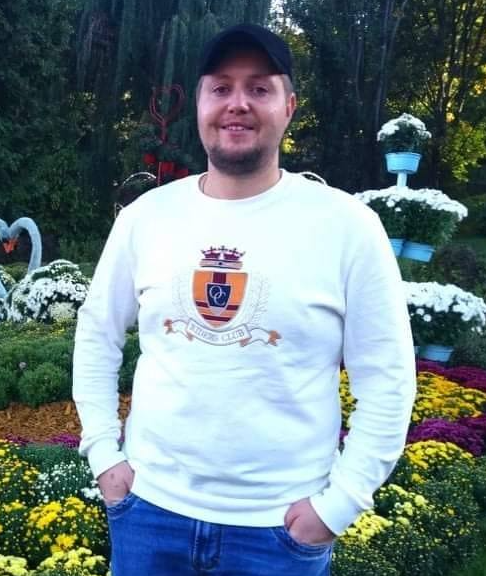 Hello Friends,
Recently, I received an unexpected email.  A man named Vyacheslav Konoval had found my poem "I Am a Veteran" on the internet while searching for veterans organizations that might relate to the tragedies of war. He is a poet who lives in Kyiv, Ukraine.
Unfortunately, the war in Ukraine is no longer a main headline here in the United States, but it still rages on, and just days ago met its 100 day milestone.  I'm writing this blogpost as a reminder that while we are experiencing many difficulties of our own here in our home country, there are millions of people in war torn Ukraine who have no home at all.  Since the invasion of Russia, nearly 6.6 million Ukrainians have fled to neighboring countries.  The impact of this is unfathomable.  The devastation left behind is unimaginable.
The email I received from Vyacheslav, who goes by Slava,  made this much more real to me.  It has been eye opening and heart wrenching to actually communicate with someone who is living this experience.  Because of health limitations, Slava was not able to join the Ukrainian army, but in the early days of the war he helped the territorial defenses unit.  He worked on building fortifications and preparing what he referred to as "cocktails of Molotov."  He survived the partial blockade of Kyiv and numerous artillery shellings.  He is still in Kyiv and has no plans to leave.  Writing poetry helps him cope.  He has written more than 20 poems since the war broke out.
Over the past 100 days, as I have watched the courage of Ukraine's leadership, military personnel, and civilians, I have been in awe of what they've been willing to do to preserve their right to live in a free nation.  These brave men and women have inspired the entire free world.  It has made me think more deeply about the price that has been paid for my freedoms.  I hope and pray that I never lose sight of that.  I hope and pray that we, as a nation, never lose sight of that.
To honor Slava and the courage of the Ukrainian people, I would like to share a few of the poems he has written.  They are from one human being in an extremely inhuman experience.  They are from one whose first language is not English.  They are raw and unedited.  When sharing others' poetry, I usually say "enjoy!"  But the subject of these poems is too difficult to be enjoyed.  I do hope, however, that they cause you to count your blessings and to continue praying for Ukraine.
With love,
Andrea
Mariupol
The unconquered city is ablaze with shelling and bombing,
warriors are going with shields in their hands,
my heart can not be calming,
they are fighting there without food and water,
Armed Forces save among civilians someone's son or daughters.
I beg the higher powers to protect the soldiers,
that in the holy dome of heaven
warriors should be under the closures.
Devil's Strengths
Bathing in the blood every 4 years for Putin is a great holiday,
then he starts enslaving people,
destroy houses and simply runaway,
and it doesn't matter if today is Monday or Sunday,
from missiles, you do not hide in the subway.
Black grace cherishes devilish selfishness,
nothing will stop his aggressiveness,
an only force acts against force,
my mission to find and destroy an evil source.
Burning cocktail
Mr. Molotov came up with a cunning recipe,
for heat popular protests,
arranged a hangover test,
a bottle of a mixture,
weapons are the best.
I'll run to the tank and throw him a cocktail,
it will melt into detail.
Do not steal the soul
Did You come to plunder, Russian soldier?
Are You jealous of Ukrainians who live better?
Is Ukraine a neighborhood molar?
Your mother won't write You a letter.
Russian soldier, don't pretend to be deceived!
Russian soldier, do not weep with crocodile tears!
Your liar eyes from scare are retrieved,
warplanes are no longer heard in the peaceful airs.
Victory soon
Myrrh on the walls of the icon,
blood-soaked statuettes of Jesus,
a candle burns out, drops the piece of *oin,
in the heart anxiety, as always, premonitions are heavy, precarious.
Prayers drive away evil every second,
let the executioners stop the
atrocities against the Ukrainian people,
The mockery in Bucha was a message to the world and an instructive lesson.
Rocket volleys will wake up the bell on the steeple.
Victory is here, wait a little longer,
On earth with weapons, the people are stronger.
*piece of dried wax
Poet biography:
– Vyacheslav Konoval is a Ukrainian poet.
– His most significant work is devoted to acute social problems, such as overcoming poverty, ecology issues, the relationship of people with the government, etc.
– Vyacheslav's poetry has been published in many journals, including The Anansi Archive Anthology, International Anthology of Poetry, Literary Waves Publishing, Sparks of Calliope.
– His poems have been read at meetings of various poetic groups: Newman Poetry Group, Never Such Innocence, Voicing Art Poetry Reading for Ukraine, Worcester County Poetry, Brussels Writer's Circle.
– Vyacheslav is a member of the Geer Poetry Group (Wales.)  He is also a member of the English Facebook group – War Poetry Association.