A Veterans Day Message from Andrea Brett –
It's a beautiful Veterans Day in Branson, Missouri!  I love living in Branson, especially this time of year.  For years, Branson has hosted one of the largest and longest running veteran's celebration in the nation.  Our family has always been so proud to be a part of it.  It is one of the reasons we have loved raising our children here – because every day at our show, we have had the opportunity to meet and visit with so many of those men and women who have made great sacrifices to ensure our freedoms.  It has been a wonderful privilege. We are really missing doing our Christmas show right now and not being able to sing the refrains of God Bless America combined with I'll Be Home for Christmas in honor of those veterans and their families who didn't get to spend Christmas together because of their military service.  We are looking forward to next year when we can do that again.
Still, Veterans Week 2020 has been a special one for me.  I've had the wonderful opportunity to spend time with some amazing veterans.  Last Friday, I was able to recite my new poem "Vietnam 10 14 58" for a group of about 70 Vietnam Veterans who were gathered here together.  It was such a privilege just to be in their presence and to look into their faces.  Those experiences always give me chills and a deep sense of gratitude that is difficult to put into words.  Vietnam Vets have a special place in my heart.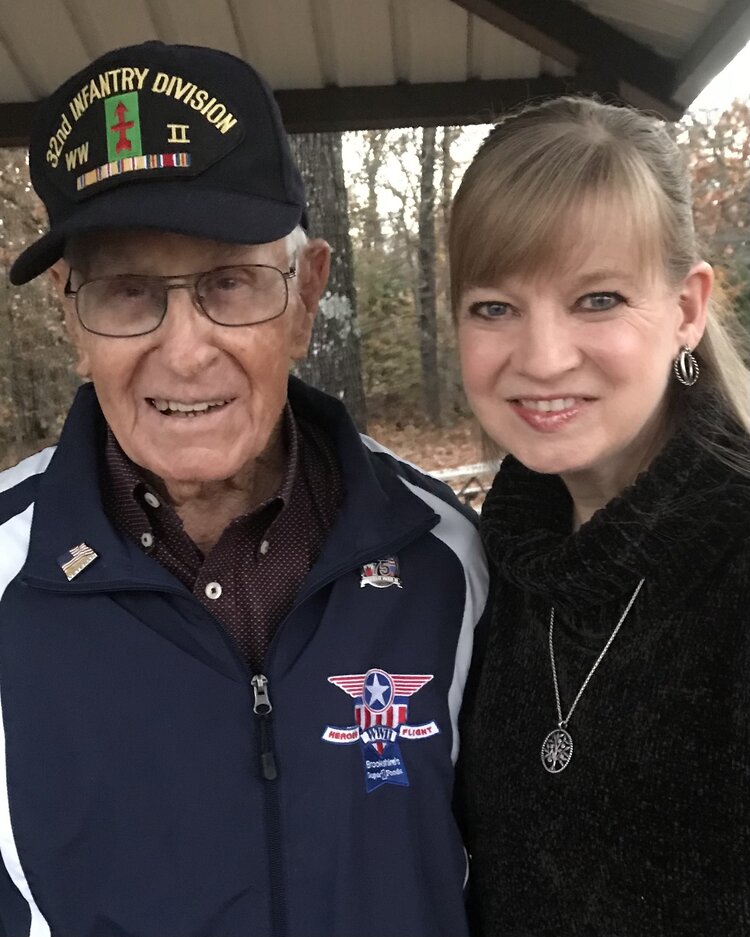 On Sunday evening, I had a beautiful time with my new friend, Whayland Greene, from Belcher, Louisiana.  He's a 95 year old WWII veteran who had been given a copy of my poem "I Am a Veteran," and his one big wish for his next trip to Branson was to meet me in person.  That was very humbling, and I assure you, the honor was all mine.  He and his dear friend and "chauffeur," Linda Williams, met me under the gazebo at Lake Forest Wilderness Area by our theater.  As the sun went down and all the hikers left the trail, the three of us spent two very quiet, solitary, and sacred hours in the dark, just visiting and sharing stories.  It was like sitting around a campfire without the fire – just feeling the warmth of friendship and mutual respect inside our hearts.  Whayland's insights, wisdom, wit, and good cheer made me deeply happy, and I will cherish the time I spent with him and Linda forever.  I pray his 96th year sees him in Branson, as well, and that we will meet again.
Yesterday morning, I was invited to present my poem at the annual Veterans Day tribute at Big Cedar Lodge.  I know that Heaven was smiling on that event because rain had been forecast for days, yet Tuesday dawned with warm sunny skies and a few lofty clouds.  With Table Rock Lake and a beautiful Ozarks autumn as the backdrop, the stage was set for perfect day to honor veterans.  The program was filled with everything you could imagine to inspire the patriotic heart:  A shiny fire engine with a huge American flag aloft, The Pledge of Allegiance, The Star-Spangled Banner, a heartfelt invocation, God Bless America, a bugler, the bagpipes, a mighty sermon, and a 21 gun salute.   It came to a stirring conclusion with the Missing Man flyover.  As we raised our eyes to the sky to watch those planes in perfect formation – the one flying toward heaven leaving its trail of gray smoke – I said a prayer of thanks to my Heavenly Father for the United States of America, for my freedoms, and for those who made and still make them possible.  I am so grateful and proud to be an American.
On this Veterans Day, I just want to say, "Thank you, Veterans." And thank you to your families.  Thank you all for your service and sacrifice.  I hope that you feel honored and appreciated today.
God bless you!  And God bless America!