We are thrilled to announce our next concert at The Nest will be the one and only Garon Brett! This is going to be the best one yet! But we may be a little biased!
GARON BRETT – ONE NIGHT ONLY
SATURDAY, AUGUST 5 AT 7:30PM
Pre-sale tickets are available at nestconcerts.com!
Seating is limited and is already filling up, so get your tickets now!
Price goes up July 22.
Follow Garon on Instagram @garonbrett and sign up for his email list at garonbrett.com.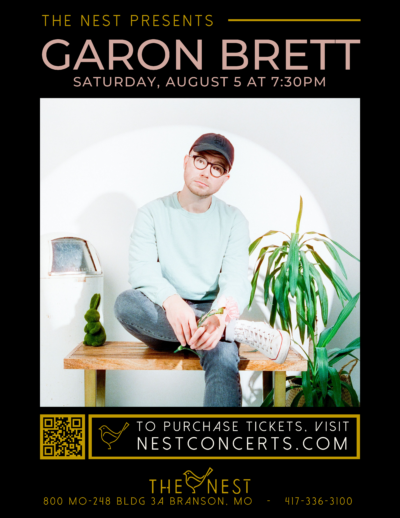 About The Nest
Owned and operated by Tom and Andrea Brett, The Nest is a cozy, intimate venue focused on growing the original songwriting community in Southwest Missouri. It serves as a gathering place where folks can relax and enjoy live music.
The Nest hosts full length concerts for singer/songwriters, "Jam Jams" for songwriters to share their works in progress, "Writers Round" concerts featuring original songs and stories by 3-4 artists, and various other concerts and events.
Follow The Nest on Instagram @nestconcerts, Like us on Facebook The Nest Concert Venue, and sign up for Nest updates at nestconcerts.com.