Brydon's wife Mina will be doing a concert at The Nest on Monday, November 13.
If you have heard Mina sing, then you know this will be a concert you do not want to miss! If you haven't heard Mina, then we will tell you, this is a concert you do not want to miss!
Mina Thomas Brett
Monday, November 13
7:30pm
Get tickets now at nestconcerts.com!
*In-Person and Livestream ticket options available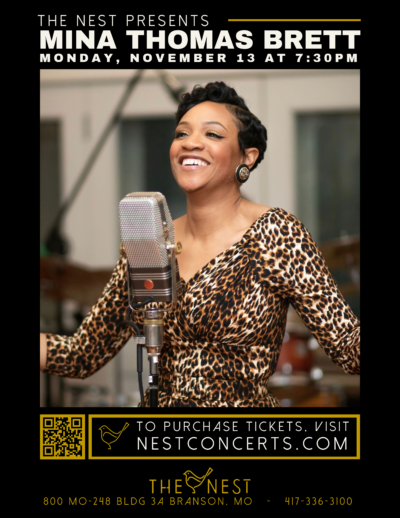 About The Nest
Owned and operated by Tom and Andrea Brett, The Nest is a cozy, intimate venue focused on growing the original songwriting community in Southwest Missouri. It serves as a gathering place where folks can relax and enjoy live music.
The Nest hosts full length concerts for singer/songwriters, "Jam Jams" for songwriters to share their works in progress, "Writers Round" concerts featuring original songs and stories by 3-4 artists, and various other concerts and events.
Follow The Nest on Instagram @nestconcerts, Like us on Facebook The Nest Concert Venue, and sign up for Nest updates at nestconcerts.com.