Every once in awhile someone comes along:
Who is a devoted friend
Who makes you laugh
Who doesn't judge you 
Who knows how to give without asking for anything in return
Who doesn't try to draw attention, but diverts it to others
Who faces adversity with good cheer
Who continually surprises you with their generosity
Who is good to the bone
For many years, the Brett family has had a friend like that.  His name is Bill Staley, and just recently he passed away and we are feeling the loss.  
For many years, Bill brought groups to Branson.  He loved Branson more than anyone we have ever known.  He was Branson's biggest cheerleader, and he loved our family. Over the years we forged a very special friendship.  Whenever he came to town, he came to see our show and he took our family out to dinner.  When he invited us to perform in his hometown in Ohio, he treated us like royalty.  He was proud of us, and we were proud to call him our friend.  He called Tom "the nicest man in Branson," which was a pretty awesome compliment coming from the nicest man on the planet!
Over the past several years, Bill suffered some serious setbacks, including cancer, but we never heard him complain about his health. The only thing he ever complained about was that his health prevented him from coming to Branson.  For five whole years! You can imagine how happy we were when this past November, Bill was well enough – really, he was just determined enough – to come back to Branson and see our Christmas show.  He brought a group of his friends, (he always traveled with friends,) and we all went to lunch together at the Grand Country Buffet.  When we said our goodbyes that day, we had the feeling that we might not have another gathering like that.  And we were right.  On January 6th, Bill's big, generous heart finally gave out on him.  
In the wee hours of the following Sunday morning, I was awakened with an idea for a song for Bill. I've learned that when those inklings of inspiration come, they need to be acted upon right away, so I got up to write.  I worked on the song over the next few days and went into the studio to record it for Bill's family and friends.  They played it at his memorial service, which was such an honor.  It was a way for us to be there even though we couldn't physically be there.  
This song is reminiscent of one that was recorded years ago by Linda Ronstadt called "Goodbye, My Friend."  I always loved that song, but I could never bring myself to sing it because among all of the beautifully crafted lyrics, there was one line that I just couldn't agree with.  She sang, "Goodbye, my friend.  I know I'll never see you again."  
I personally don't believe that to be true.  I believe we will see Bill again.  So, the song I wrote for him is an expression of that faith, hope, and belief.  
We don't say permanent goodbyes.  We just say "Goodbye for Now."
I share the song here hesitantly, because it was done quickly and is not really a finished project yet.  And I'm a perfectionist.  But one thing I've learned is if we wait for things to be perfect, they may never happen, and some things just have their special place in time.  This song came at a special time for a very special person.  
If you've ever lost a friend like Bill, I hope it reminds you of them and gives you some hope and comfort.  
With so much love and so many cherished memories,
Andrea and all the Brett Family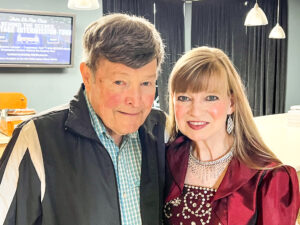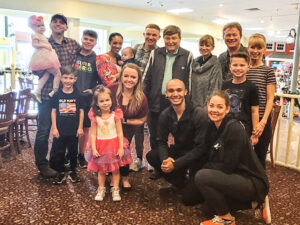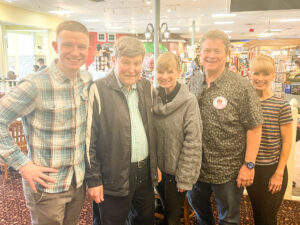 Goodbye for Now
With sweet memories of Bill Staley
Lyrics & Music by Andrea C. Brett – Branson, Missouri
Audio available at the bottom of lyrics
Goodbye for now
I'm gonna miss you, my friend
It's so hard to see you go
Even though I know
It's not really the end
I want you to know
I will always think of you
I didn't want to lose you yet
But I'll never forget you
In everything I do
"Cause you showed me how to give
Even when you didn't have much
You showed me how to smile
Even when your road was really rough
You showed me how to be a friend
You showed me how to love
You weren't here long enough
For me
And even though you're away
And I can't see you're shining face
I want you to know
You are still in this place
And I'll see you again
My good, kind friend
I'm thankful anyhow
It's only goodbye
It's only goodbye for now
Click below to listen to the audio recording of Goodbye for Now