We are excited to be hosting Billy Yates at The Nest! We invite you to join us for this special, up close performance as Billy shares songs he has written for some of the biggest names in country music, as well as the stories behind them!
Billy Yates in Concert
Saturday, October 21
7:30pm
Get tickets now at nestconcerts.com!
*In-Person and Livestream ticket options available
About Billy Yates
Billy Yates is a Nashville based, Grammy-nominated, singer/songwriter whose songs have been recorded by artists such as George Strait, Kenny Chesney, Chris Young, Sara Evans, Gary Allan, Joe Nichols, John Michael Montgomery, Daryle Singletary, The Oak Ridge Boys, Mark Chesnutt, Gene Watson, Sammy Kershaw, Doug Stone, Rhonda Vincent, Willie Nelson, Leonard Cohen, and more. Yates also co-wrote the George Jones classics, "I Don't Need Your Rockin' Chair" and the Grammy-award winning, "Choices".
A seasoned entertainer, Billy Yates also tours Europe extensively where he was recently named the European CMA Male Vocalist of the Year. With 13 number 1 singles on the European charts. Here at home, Yates has been featured on the world-famous Grand Ole Opry 50 times and has also appeared on TV shows such as Larry's Country Diner and Country's Family Reunion. In addition, Billy holds the distinct honor of being one of the first American artists to perform in China's former Capitol city, Xian. He is also the first American artist to be featured on the popular Irish TV documentary, Opry an luir and is the first American artist to record in the traditional Irish Gaelic language.
As a record producer, Yates has produced a number of major European and Australian artists, plus a few US artists including country music legend, Charley Pride's last record, "Music in My Heart".
Yates was recently honored by his home state of Missouri as they named a stretch of federal highway that runs through his hometown the "Billy Yates Highway".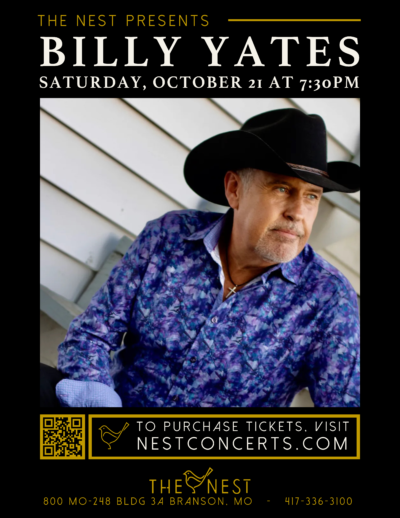 About The Nest
Owned and operated by Tom and Andrea Brett, The Nest is a cozy, intimate venue focused on growing the original songwriting community in Southwest Missouri. It serves as a gathering place where folks can relax and enjoy live music.
The Nest hosts full length concerts for singer/songwriters, "Jam Jams" for songwriters to share their works in progress, "Writers Round" concerts featuring original songs and stories by 3-4 artists, and various other concerts and events.
Follow The Nest on Instagram @nestconcerts, Like us on Facebook The Nest Concert Venue, and sign up for Nest updates at nestconcerts.com.